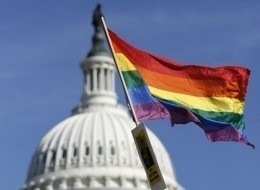 Any citizen who identified themselves as homosexual was not allowed to serve in the United States Armed Forces until 1993 when Bill Clinton enacted a
"don't ask, don't tell" policy
. This policy allows any citizen, regardless of their sexual orientation, to serve their country, so long as they do not reveal their orientation. In his State of the Union Address last week,
President Obama made it clear that he disagrees with the law
and wants to make it legal for anyone, sexual orientation aside, to serve in the military. His goal: to repeal "Don't Ask, Don't" tell by the end of this year.
This has started a very heated debate across the whole country, with strongly opposed citizens going into an uproar and gay-rights activists cheering on President Obama. The decisions made on this bill will be monumental for our country, no matter what the outcome. Familiarize yourself with this issue by reading the articles linked in this post and try to find more information. Do both sides have convincing arguments? What do you think should happen?